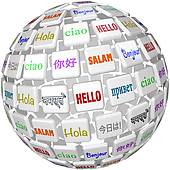 With the increasing diversity in many countries, some CIS have information specialists who can provide information in more than one language while others use an interpreter service. An interpreter service is a three-way call between the client, the interpreter, and the information specialist. These types of calls are more expensive and tend to last longer but offer a practical alternative to the provision of a service in several languages. 
We have put together a list of cancer organizations that provide cancer information in various languages. On these websites, you will also find materials available in PDF format. These websites are intended to be used for general information purposes only.
Please note that there may be important differences in cancer information from country to country. If you need further information, please contact us.
Websites that have multi-lingual materials:
American Cancer Society
Cancer Council Victoria
Canadian Cancer Society
Macmillan Cancer Support
National Cancer Institute
Portal of Asian Language Cancer Information
Arabic
Australian Cancer Survivorship Centre
Cantonese
Australian Cancer Survivorship Centre
Chinese
Northern California Chinese Cancer
China Anti-Cancer Association
Hong Kong Anti-Cancer Society
Danish
Danish Cancer Society
Dutch
Dutch Cancer Society
French
Canadian Cancer Society
Ligue nationale contre le cancer
Finnish
Finnish Cancer Society
Greek
Hellenic Cancer Society
Australian Cancer Survivorship Centre
German
Krebsinformationsdienst
Deutsche Krebshilfe
NCI – CancerNet (via Europe – German)
Switzwerland (In German, French, Italian)
Hebrew
Israel Cancer Association
Italian
Associazione Italiana Malati di Cancro, parenti ed amici (AIMAC)
Istituto Nazionale Tumori
Switzerland (In German, French, Italian)
Australian Cancer Survivorship 
Japanese
National Cancer Centre
Korean
National Cancer Institute
Mandarin
Australian Cancer Survivorship Centre
Norwegian
Norwegian Cancer Society
Polish
Maria Sklodowska-Curie Memorial Cancer Center and Institute of Oncology
Portuguese
Liga Portuguese Contra O Cancro
Romanian
Association P.A.V.E.L.
Spanish
National Cancer Institute – Documentos sobre el cancer
American Cancer Society – Información de referencia sobre el cáncer
MEDLINEplus – Enciclopedia Médica en español
Asociación Española Contra el Cáncer
Swedish
Swedish Cancer Society
Vietnamese
Australian Cancer Survivorship Centre